Dear Friends,
We hope you've had a chance to check out our new website. Can you tell we're proud? My favorite part is the WHAT WE LOVE section. Here you can find Staff Picks, my Get Lit column from the Greenwich Sentinel, and our WHAT WE LOVE blog. Colette, Gabi and I have lots to suggest—books we've read, events we are excited about, and new gifts we covet. Here's what you'll find!
With summertime love,
Becky and Team Bookstore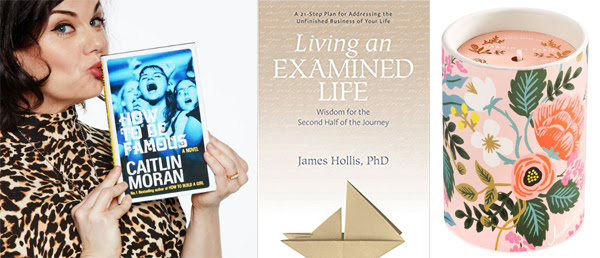 Becky:
How To Be Famous by Caitlin Moran. I have been in love with Caitlin Moran since I read her worship-worthy memoir: How To Be A Woman. In its wake she has written a pair of novels loosely based on her life leaving the Midlands of England at 17 to become a rock journalist in the 1990s. This summer her fictional self, Johanna, continues the story of her teenage apotheosis and becomes "famous" via the kind of shameful event that only the most guilelessly adventuresome teen could unwittingly engineer. The best thing about this book is the love story. I was so taken with the way Johanna falls in love (and is fallen in love with) that I read that chapter three times. A remarkable story of being known and loved for exactly who you are. Warts, wisdom, and all. (The book is sexually graphic, so keep that in mind.)
Living An Examined Life by James Hollis. I took Dr. Hollis' advice and read this one for 21 days and journaled as I went. This book will change your life. I say that in all sincerity.
I love Rifle Paper Co.'s Jardin de Paris Candle far more than is reasonable to admit. The peony, white tea, gardenia, and sandalwood notes are exactly what I want to smell in the summer. Its like clutching a fresh bunch of peonies from your garden to your face and breathing deep. And the porcelain cup it comes in? Mon dieu! I have pencils in the one I burned down last summer. So cute!

Colette:
I am loving the Myth and Magic of Circe by Madeline Miller. The stories from the epic poem The Odyssey that bridge man and myth are told from the point of view of Circe, the enchantress who turned Odysseus's men into swine. The reader witnesses the terrible birth of the Minotaur,  a small mercy extended to Prometheus and the inadvertent creation of the sea monster Scylla. But best of all, Circe emerges from this story a true survivalist, a single mother who uses her wits and her magic to protect her home from violent, greedy mortals, and who fiercely protects her son no matter what the cost.
I am also loving the Pigs Will Fly Kite and Roost Felted Mermaid Ornaments striking sassy poses over our Summer Reading table. Anything is possible!

Gabi:
Constantly on a search for deeper meaning in my life, Deeply Grateful and Entirely Unsatisfied by Amanda Happé was a perfect short read for me. Filled with colorful and imaginative illustrations, this book aided me with helpful words of wisdom and reassurance that no one has their life together as much as they would like to, but that's okay! As Happé states, "Defenselessness is the unlikely companion of freedom." Sometimes we just need to let go and enjoy the wild ride of life!
In addition to filling my mind with zen thoughts, I also like to create a peaceful environment wherever I may go. Our lotus candle holder and gnome zen garden are perfect for that. The candle holder is beautiful and perfect to use when meditating, as is the zen garden for when you need to focus your mind!
"In many ways, this in the Platonic ideal of a beach read: fraught romances between adults, teens and twenty-somethings alike, an iconic setting that is just accessible enough to think you might visit one day, townies vs. summer renters, evil trophy wives vs. imperiled single moms, and a eccentric rich dude who treats life like a chess game, only winnable by him sitting on top of the story (in his hoodie) like the cherry on a sundae."
Read Becky's latest book review published in the Greenwich Sentinel, Beach Reads.